College Fair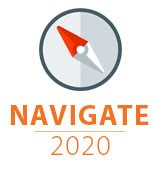 NAVIGATE 2020 Virtual Conference and College Fair  
May 4-6, 2020
This event will host three days of live-stream expert presentations for students and families and a concurrent virtual college fair with fully interactive booths.  Students can chat live with college admissions representatives, helping to find fit.
Students and families have lost opportunities in their college search due to COVID-19.
This event is free-of-charge to attendees and is designed to help students and colleges connect safely during the COVID-19 crisis.  The event will be live for three days, packed with informative sessions about the college decision process.  During those three days, students can also browse interactive college fair booths, chatting live with admissions representatives.
After three days of live interactions, this event will remain posted at the event site until the COVID-19 crisis is over.  Students need access to information and this site will remain a robust tool for exploring their options.
We hope you can join us in this important event!  Register soon, space is limited.
The Golden Circle College Fair is the largest college fair in Iowa. The fair is an annual favorite as it draws in colleges and universities from across the United States, and offers Iowa families a chance to explore nearly 135 colleges in one day. A new addition to the fair is the Career Cluster area. Each of the 16 Career Clusters will be represented by Iowa businesses offering insight and advice on different career paths. The fair also features breakout sessions on job outlooks in Iowa, employer expectations, college selection, and the financial aid process. The fair is held annually the last Sunday in September or the first Sunday in October depending on the calendar. For more information visit www.ICANsucceed.org/goldencircle.